Welcome to Palomar High School Counseling Center. Our goal is for all students to be successful life-long learners. Palomar counselors are here to help guide the students and to prepare them for future educational goals. Students meet regularly with counselors when they receive a course completion. Counselors are regularly available to work with students and parents to guide students to the fulfillment of their high school goals.
Palomar has created a safe learning environment by developing and implementing a comprehensive program of health, social and emotional support and counseling services for students and their families. There is an Open Door Family Resource Center on campus and a partnership with Scripps Hospital that funds a free family resource clinic on site.
Financial Aid Information
FAFSA is a Free Application for Federal Student Aid. A form that can be prepared annually by current and prospective college students (undergraduate and graduate) in the United States to determine their eligibility for student financial aid.  You can access the FAFSA website here for more information: Federal Student Aid Website Link.
Link to fiancial aid events in the SUHSD for 2022-23. Click HERE for the schedule.  The first two pages are in English the third and fourth pages are in Spanish.
Palomar Scholarship Foundation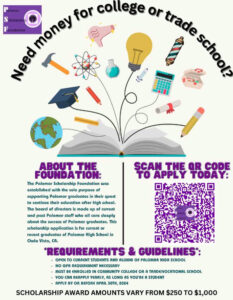 Click on the FLYER Image for a FULL Size View.
The Palomar Scholarship Foundation was established with the sole purpose of supporting Palomar graduates in their quest to continue their education after high school.  The board of directors is made up of current and past Palomar staff who all care deeply about the success of Palomar graduates.  This scholarship application is for current or recent graduates of Palomar High School in Chula Vista, CA.   Click on the link to complete your  Application for the Palomar Scholarship.  You will be contacted at the phone number, email and address you provide on the application, so please ensure the information is accurate.  This scholarship is paid directly to the school or bookstore, or in the form of reimbursement to the student with a receipt.
A scholarship is an award of financial aid for a student to further their education.  The links below are to multiple types of scholarships available to your child.  Investing a few hours in completing the various applications can result in receiving hundreds, possibly thousands of dollars to help finance a person's education.
Hours of Operation:
Monday – Friday
7:30 AM – 4:30 PM
Phone: 619-407-4820
Fax: 619-691-0061
Counselor Assignments
Constantino Batista
Counselor: (A-L)
Email: constantino.batista@sweetwaterschools.org
Robert Evans
Counselor: (M-Z)
Email: robert.evans@sweetwaterschools.org

Diane Santos
School Psychologist
Email: diane.santos@sweetwaterschools.org
Lyra Ponce
Office Assistant II
Phone: 619-407-4821
Email: lyra.ponce@sweetwaterschools.org
---